Flying technician and the perfect rutabaga pie
Laura Tahvanainen creates both state-of-the-art airships and traditional Karelian pastries. Finding a balance between ultramodern work and a down-to-earth lifestyle is easy in Joensuu.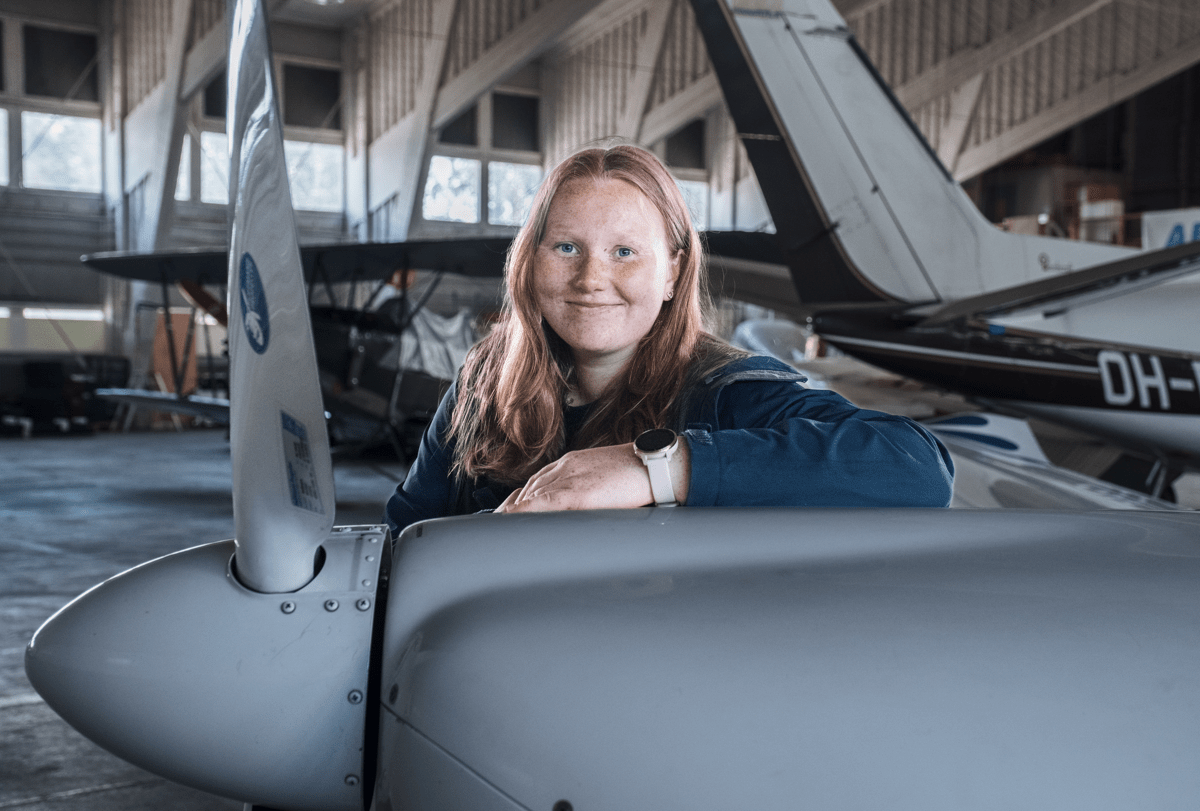 The runway ends and the white Diamond DV20 lifts off the tarmac. The nose of the plane climbs gently up towards the clear late summer evening sky. The neighbourhoods of Pilkko, Marjala and Noljakka spread out below. At an altitude of about one kilometre, the plane settles on its flight route above Joensuu. From up high, the river looks like a roll of aluminium foil winding its way through the city.
The warm light of the evening sun filters into the cockpit and on the face of Laura Tahvanainen, aged 21.
"A clear summer evening like this with low winds is the best time to fly – both in terms of the conditions and the scenery," says Laura.
Laura has always loved flying. Her first encounter with aviation came as a child when her father took her on a plane. It immediately sparked something inside her. She went on to accompany her father on flights and help him perform maintenance on his plane.
Laura was just 17 years old when she flew solo for the first time, and received her pilot's license a year later.
"I always thought I'd become a professional pilot. My ultimate dream was to fly a medical helicopter."
However, Laura had to bury her dreams of working as a professional pilot when the COVID-19 pandemic put the pilot training programmes on hold at the Finnish Aviation Academy. Helicopter pilot studies, on the other hand, are so expensive that Laura has decided to leave this dream for another time.
Dream job fell in her lap
For years, Laura has been flying regularly several times a month. She flies both for fun and to keep her skills sharp.
The Diamond DV20 she is now piloting is owned by the Joensuu Aviation Club, and planning and scheduling the aircraft's maintenance is Laura's responsibility.
"I'm in charge of it, so to say. I make sure that the aircraft is airworthy in terms of its structure and maintenance and that its documents and licenses are up to date," she explains.
Laura's favourite plane is the old model four-seat Piper Cherokee Warrior II. She says it has the dignity of an old plane and does not make things easy for the pilot.
"For instance, you need to know a whole bunch of controls and things that are all automatic on more modern planes. I like having to use my brain and doing things myself," says Laura.
That is actually one of the biggest reasons why Laura decided to start studying to become an aircraft mechanic after upper secondary school. The work of an aircraft mechanic felt like the perfect way to combine her natural abilities and her favourite hobby.
But there was a time when Laura thought she had made a big mistake in choosing this field of study, because a few years ago, the job prospects in the field did not look very promising.
"I almost dropped out of school altogether, thinking that I could never get a job in this field and live in Joensuu near my friends and family. But then my dream job fell right in my lap," she says, shaking her head in disbelief.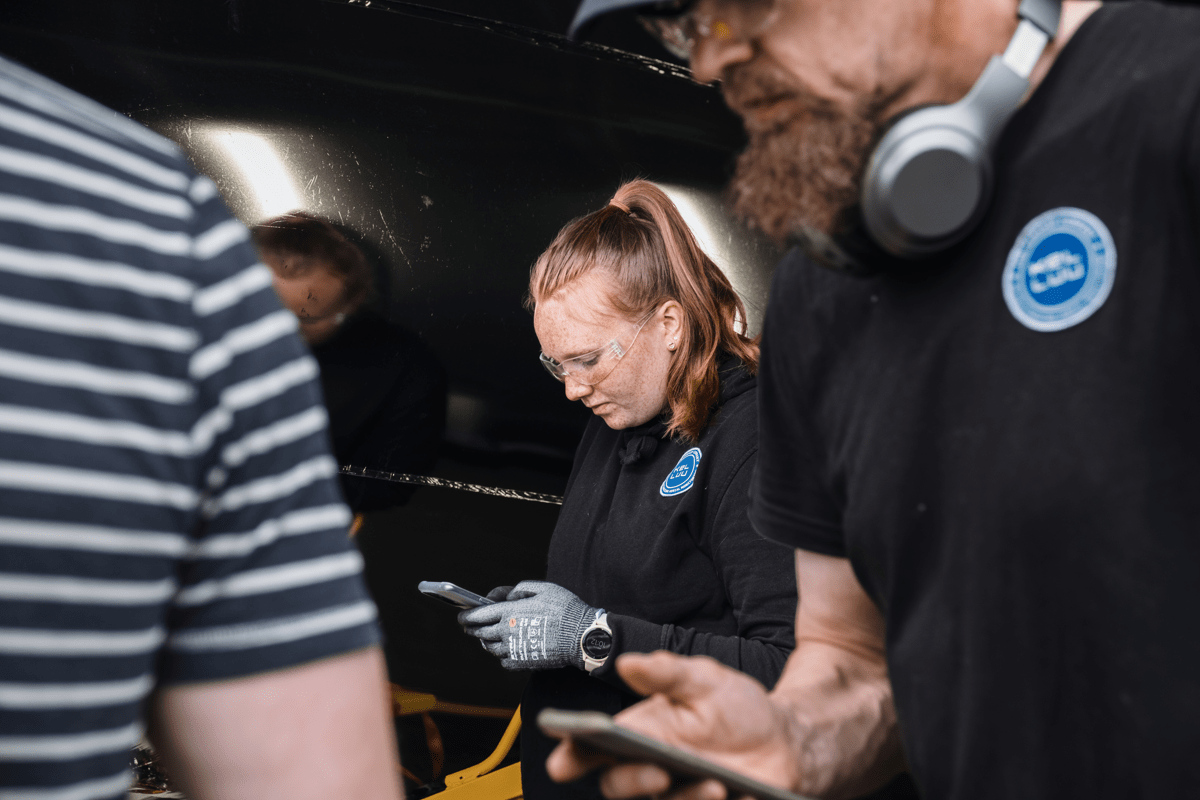 Best part is the childlike excitement in coworkers' eyes
Near the beginning of 2023, Laura decided to take a chance and send an open summer job application to Kelluu, a company based in Joensuu. She had read several news articles about the company, which manufactures hydrogen-powered airships in rural Joensuu for aerial monitoring and data collection purposes. Laura thought it sounded awesome.
The management team at Kelluu was impressed by Laura's skills, and it did not take long before she was recruited by the airship startup as a permanent technician.
"Building an airship is not so different from building an airplane, although they are different kinds of machines. The same laws of aerodynamics apply to both of them, and the same technologies and an understanding of aviation in general," says Laura.
Laura's duties include manufacturing components, assembling airships and testing them. A group of four to five technicians typically work together on a single airship.
"One of my strengths is the ability to manage the big picture. Flying also requires an understanding of the aircraft's technology, and manufacturing is easier if you know all the things you need to take into account when flying," says Laura.
Although Laura is an experienced pilot and a skilled technician, she still feels like she learns something new at work every day.
"You never know everything in this business, but that's not a bad thing. It's something that motivates you to come to work every day," she says.
The best part about her job is the people she works with and the genuine, childlike excitement in all her coworkers' eyes. A shared feeling of working together to create something cool and unique.
"We have a diverse group of people working here. They come from all over the world, and everyone has their own passions and hobbies, which can also be resources to draw from at work. I have learned something from each of my coworkers."
"You can become anything here"
Whereas building an airplane is mainly all about following the instructions, there are few models out there for commercial airships. At least not for the ones manufactured at Kelluu. When the purpose of the airship is to collect extremely precise data, for example on infrastructure or forest damage, the technician also has to reset their brain to new settings.
"The work involves a lot of product development, because there are no ready-made solutions available. But that's also what makes the job so interesting," says Laura. "We get to try different solutions with a very low threshold. It's the coolest feeling in the world if the solution you came up with proves to be effective."
Patience is a virtue when manufacturing airships. There is no sense in making many copies of a component, because if it does not work, all the material and work will have gone to waste. Testing a new type of component also takes time.
"This is not a job for an impatient person," says Laura with a laugh and admits that she, too, has had to learn to be patient.
The versatile, creative nature of the work makes this easier. Laura has had the chance to have a go at all sorts of things from installing fuel cells to composite work. The company is interested in getting her more involved in flight operations due to her experience.
"You can become just about anything here," she says with a laugh.
The first aircraft manufactured by Laura's team is waiting for its test flight in the hangar of Kelluu. Laura admits feeling nervous about it. She hopes that in the near future their airship could be used to fly hundreds of hours of commercial flights.
"And that's not a far-fetched goal at all, but completely realistic. After that, we can start thinking about the next goal," she laughs.
What that could be is still a big question mark.
"I can't even begin to imagine what we could accomplish. But I do know that whatever it is, it doesn't even exist yet."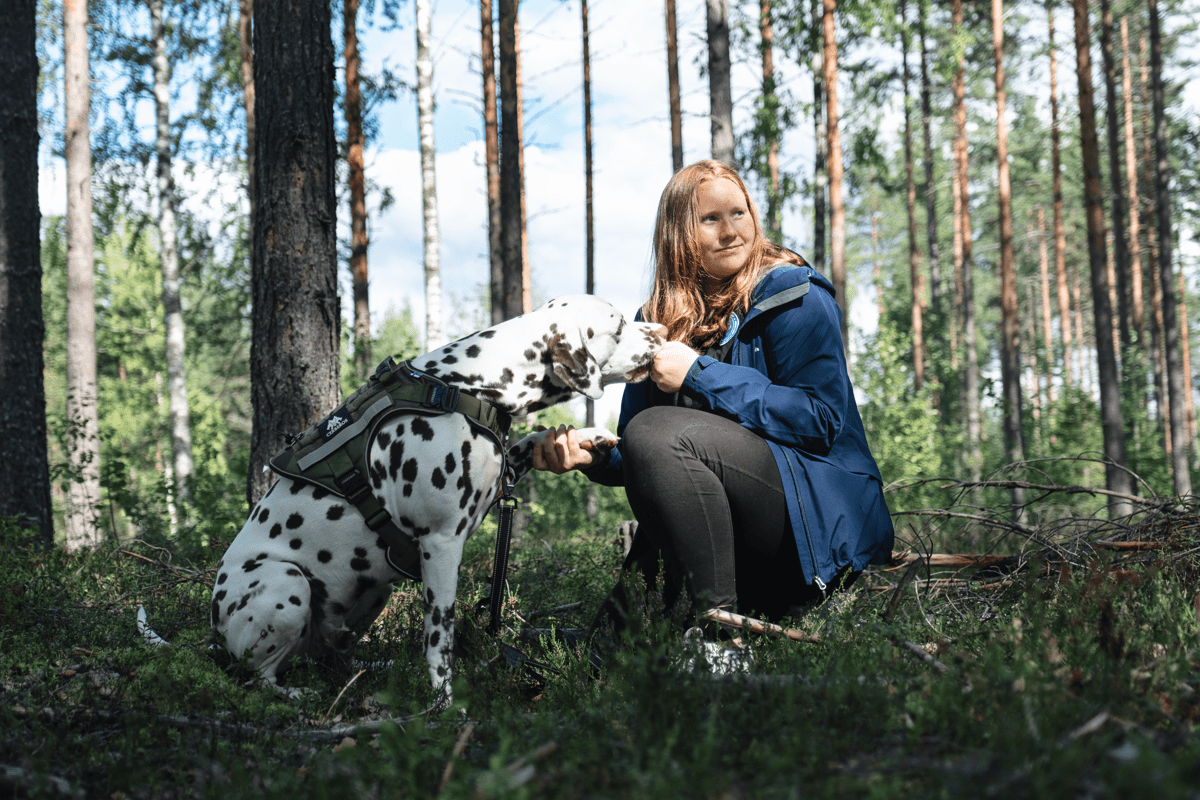 Dreams of a farm and the perfect rutabaga pie
The life of the airship technician in Joensuu has gradually settled on its route. Laura drives a good five kilometres from Niinivaara to her workplace in Reijola five days a week, usually works office hours, and not only goes flying in her free time, but also spends time in the forest and at a cabin together with her spouse and her Dalmatian named Uuno.
"Uuno is like its namesake comedy character, director Turhapuro; always fooling around and bumping into everything," says Laura with a laugh. "The dog is always happy and puts me in a good mood as well."
Laura also likes baking. She enjoys traditional Karelian recipes, and can conjure up both cinnamon buns and Karelian pies. She hopes to one day master the art of making a traditional rutabaga pie.
"My husband's grandmother makes the perfect rutabaga pie; if I learned to make it like that, I'd be very happy."
Laura would love having even more animals and room to bake some day.
"Perhaps a small farm by a lake, a snowmobile and sheep," she says, envisioning her dream.
That is exactly what makes Joensuu so wonderful: you can live a very down-to-earth lifestyle and still work at a state-of-the-art tech company where, when it comes to employee development, sky is the limit – if that.
But now the sun is already sinking slowly to the horizon of the rural city and it is time to get our feet back on the ground for a moment. Diamond DV20 heads towards its home airport and begins its descent.
"I think I'll try a no-flap landing this time," Laura says, maintaining the right final approach speed.